數字幽靈:C.K沉珂
DIGITAL GHOST: THE LEGEND OF CEEKAY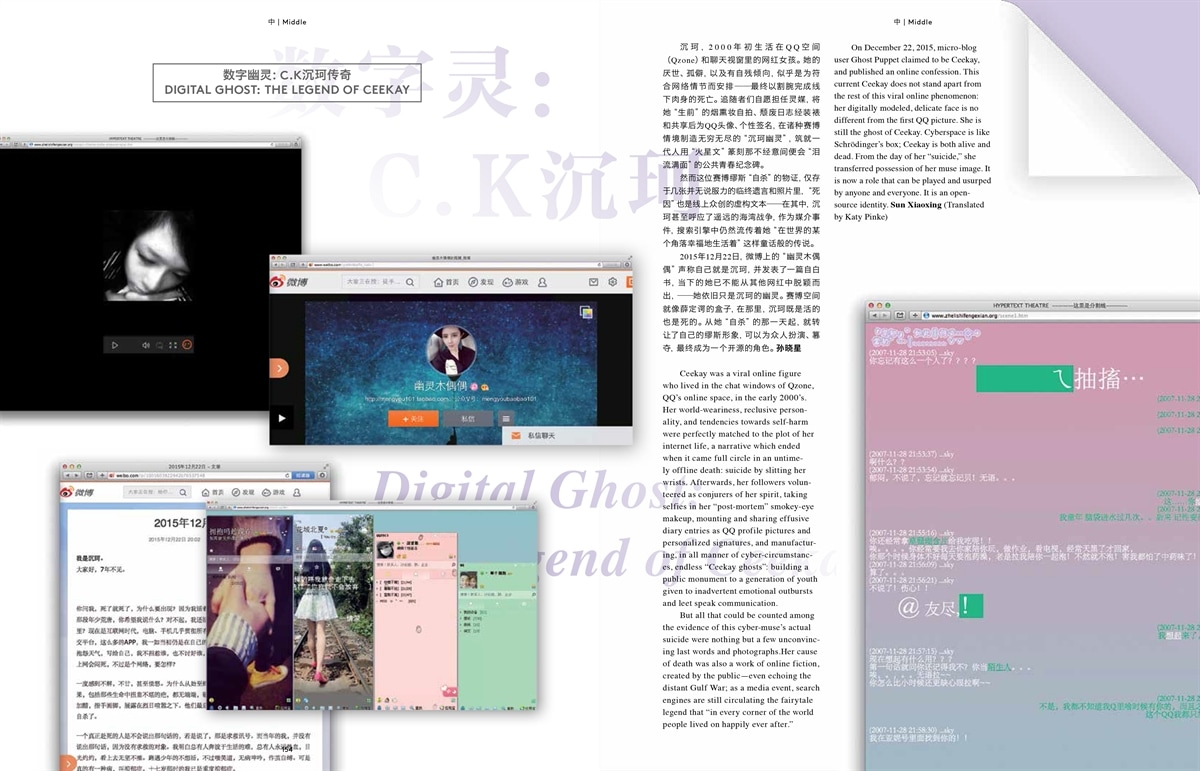 沉珂,2 0 0 0年初生活在Q Q空間(Qzone)和聊天視窗裡的網紅女孩。她的厭世、孤僻,以及有自殘傾向,似乎是為符合網路情節而安排——最終以割腕完成線下肉身的死亡。追隨者們自願擔任靈媒,將她「生前」的煙熏妝自拍、頹廢日誌經裝裱和共享後為QQ頭像、個性簽名,在諸種賽博情境製造無窮無盡的「沉珂幽靈」,築就一代人用「火星文」篆刻那不經意間便會「淚流滿面」的公共青春紀念碑。
然而這位賽博繆斯「自殺」的物證,僅存于幾張並無說服力的臨終遺言和照片裡,「死因」也是線上眾創的虛構文本——在其中,沉珂甚至呼應了遙遠的海灣戰爭,作為媒介事件,搜尋引擎中仍然流傳著她「在世界的某個角落幸福地生活著」這樣童話般的傳說。2015年12月22日,微博上的「幽靈木偶偶」聲稱自己就是沉珂,並發表了一篇自白書,當下的她已不能從其他網紅中脫穎而出,——她依舊只是沉珂的幽靈。賽博空間就像薛定諤的盒子,在那裡,沉珂既是活的也是死的。從她「自殺」的那一天起,就轉讓了自己的繆斯形象,可以為眾人扮演、篡奪,最終成為一個開源的角色。

Ceekay was a viral online figure who lived in the chat windows of Qzone, QQ's online space, in the early 2000's. Her world-weariness, reclusive personality, and tendencies towards self-harm were perfectly matched to the plot of her internet life, a narrative which ended when it came full circle in an untimely offline death: suicide by slitting her wrists. Afterwards, her followers volunteered as conjurers of her spirit, taking selfies in her "post-mortem" smokey-eye makeup, mounting and sharing effusive diary entries as QQ profile pictures and personalized signatures, and manufacturing, in all manner of cyber-circumstances, endless "Ceekay ghosts": building a public monument to a generation of youth given to inadvertent emotional outbursts and leet speak communication.
But all that could be counted among the evidence of this cyber-muse's actual suicide were nothing but a few unconvincing last words and photographs.Her cause of death was also a work of online fiction, created by the public—even echoing the distant Gulf War; as a media event, search engines are still circulating the fairytale legend that "in every corner of the world people lived on happily ever after."
On December 22, 2015, micro-blog user Ghost Puppet claimed to be Ceekay, and published an online confession. This current Ceekay does not stand apart from the rest of this viral online phenomenon: her digitally modeled, delicate face is no different from the first QQ picture. She is still the ghost of Ceekay. Cyberspace is like Schrödinger's box; Ceekay is both alive and dead. From the day of her "suicide," she transferred possession of her muse image. It is now a role that can be played and usurped by anyone and everyone. It is an opensource identity.